Asarum shuttleworthii 'Callaway' (Callaway Mottled Ginger)
Height: Less than 12 inches
Spread: Less than 12 inches
Light: Part to full shade.
Soil: Amended, moist but well-drained soil. Drought tolerant once established.
Description: A hard-to-find little gem that's rarely offered in the retail trade! Evergreen, native perennial with rounded, heart-shaped green leaves with a prominent silver-white mottling. Much smaller leaves than other varieties. Purple-brown, tubular flowers bloom at ground level in late winter. Believed to have originated in Pine Mountain, GA, and has been cultivated at Callaway Gardens since 1965. Plant in mass at the front of the shade border, in containers, or at the base of trees. Looks great paired with ferns.
---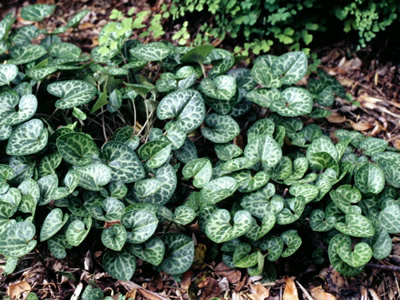 Image: Dr. Ullrich Fischer Schattenpflanzen